President Trump has largely used his four years as president to refrain from foreign interference and regime change that had marked both President Bush's and Obama's foreign policies.
However, there are two areas where Trump has successfully held the line and utilized a strong approach in order to wield results.
Over the last four years we have seen the President use the might of the USA and proper diplomacy to push back on both Iran and China.
He has been emphatic on holding Iran accountable for its drive towards nuclear weapons and its strategic regional destabilization activities, namely in Iraq, Syria, and Yemen.
On China, he pushed back using tariffs and held strong during trade negotiations. Furthermore, he strengthened America's relationship with India, Japan, and others directly surrounding China.
With all of this in mind, it is important to understand the relationship these two American adversaries have. By doing so, one can understand why the potential for an attack on Iran before Biden takes over has merit.
The Growing Iran-China Partnership
What was once only a geopolitical convenience, both countries have now seen the necessity behind their growing alliance.
So why do these two countries form such a symbiotic relationship?
Firstly, China's energy needs are one of the largest in the world. The challenge for China is that its domestic source of oil or gas no longer covers its needs. It relies heavily energy imports.
So where does it import oil and gas from?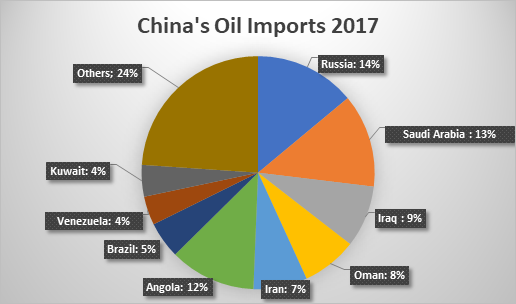 On the face of it, China's energy imports are pretty varied. However, there is another component, which makes Iran a key part to China's equation. This is the Belt and Road initiative. China sees Iran as a key component in its ability to influence the Middle East. After all, while China may get energy from Iraq, Oman, and Kuwait, these countries are heavily influenced by policy decisions on Iran.
As an example, Oman has yet to join the Abraham Accords, because it fears retribution from Iran. Kuwait is heavily Shiite and although dislikes Iran, it is equally threatened by them. The same goes for Shiite controlled Iraq as well as part of the Kurdish North.
The latest cooperation agreement signed between Iran and China in June illustrates this. The cooperation agreement was further cemented this past October with a visit by Iranian foreign minister Javad Zarif.
While the agreement focuses on economic and cultural ties, the use "terrorism" as a reason to partner together for security reasons or join support in international bodies should be understood as far more than just passive cooperation. Furthermore, the agreement stipulates China's resolve to back the JCPOA nuclear deal and also help Iran with energy development, including nuclear.
While China has followed a policy of non-intervention in the Middle East, its growing alliance with Iran allows it to partner with someone who for its own reasons will be able to enforce Chinese hegemony in the Persian Gulf and over the rest of the region, thus ensuring a steady source of energy for years to come for Beijing.
In turn, Iran can rely on Chinese backing, both militarily and diplomatically for its drive to conquer Israel and the Sunni world.
Biden Will Strengthen The Chinese-Iranian Axis
If Joe Biden hold off President Trump's legal challenges he will essentially be a compliant partner in allowing the China-Iran Axis to hold sway over the Middle East. It cannot be overstated how much Biden and his team are influenced by the CCP controlled China.
Jake Sullivan, Biden's potential National Security Advisor was noted as saying that China's rise is a foreign policy success.
He said the following in full remarks: "We helped create the conditions of stability and security in East Asia that allowed China to have this remarkable economic rise. So that it's rising, in a way, is not the failure of American foreign policy; it's the success of creating those stable conditions."
Biden has issued positive statements as well about China's rise.
Iran's ability to act as China's forward base and arm in the Middle East is perhaps Trump's actual reason for considering a limited but serious strike on the Islamic Republic. Any action President Trump carries out or allows the new Israel-Sunni Alliance to carry out before he potentially leaves in January should be seen through a prism that takes China into it as well.