Mohsen Fakhrizadeh, the Iranian scientist considered to be the mastermind behind Iran's nuclear weapons program was gunned down Friday in Tehran.
Iran wasted no time blaming Israel: "Once again, the evil hands of global arrogance and the Zionist mercenaries were stained with the blood of an Iranian son," Iranian President Hassan Rouhani said during a cabinet meeting early Saturday.
This was no doubt a major blow to Iran. This was on par with the Trump Administration's targeted killing of arch Iranian terrorist Qasem Soleimani last year.
So while Israel is assuming there will be an Iranian response and rightfully raising alert levels at embassies around the world, the real question is – did Israel actually pull off such a high level assassination?
"I have no clue who did it. It's not that my lips are sealed because I'm being responsible, I really have no clue," Hanegbi, a confidant of Prime Minister Benjamin Netanyahu, told Meet the Press, Israel political TV show.
However, Prime Minister Netanyahu indicated the opposite on a video he posted on Facebook after the assassination: "I did a lot of things this week, not everything can be told."
The truth is, while it is easy to believe that the Mossad has a team on the ground in Iran, it is also far more possible that Israel has made inroads into some of the non-Persian ethnic groups agitating against Iran and with their help have been able to penetrate deep within the Iranian security services in order to pull this attack off
Although the Mossad was directly involved in 2018, when it was able to break into Iran's nuclear archives and remove 55,000 paper files and 183 CDs with another 55,000 files on them. No one doubts the Mossad's prowess, but these sorts of attacks involving moving targets, explosives and gunmen are nearly impossible to pull off unless there was wide spread involvement by locals.
What Happens If They Never Left
When viewing the sorts of operations that the Mossad carries out, especially visa vi Iran, it must be assumed there is not one team who enters Iran, carries out the operation and then leaves. Rather, there is an obvious need for a team to remain there. Yet, Iranian intelligence is very good and so how is it possible this team has not been found yet?
Two possibilities come to mind.
Either the Mossad team is so good it just blends into the populace – disguised and all – or it is only one part of the team. The other part as mentioned above is made up of indigenous ethnic groups currently occupied by Iran.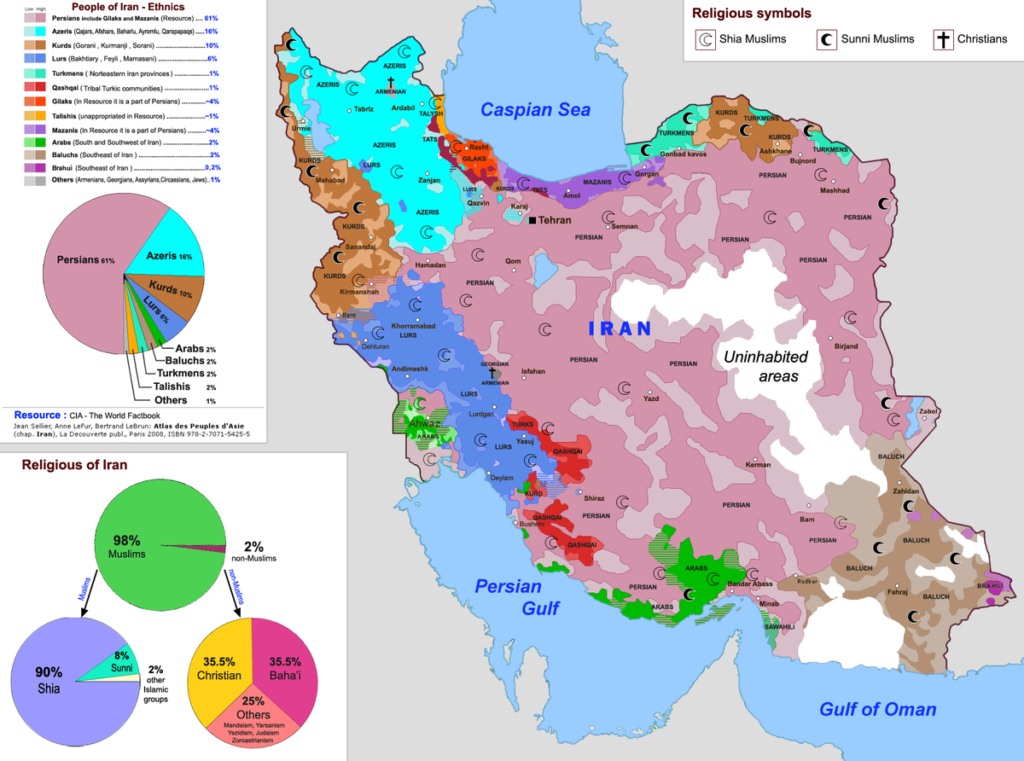 Above is a map detailing the various minority groups within Iran. It has long been known that the Kurds to the West and Baluchs to the South East are itching for independence. Any Mossad team could either come and go through KDP run Kurdistan into Western Iran or easily just blend into the local population there.
Furthermore, the Mossad may not be carrying out these sorts of assassinations, but rather work with disaffected groups by offering intelligence.
Iranian Kurds have been actively trying to separate since 1918. As recent as 2016 there have been armed clashes between Iranian Kurdish separatists and the Iranian Armed Forces. It would not be a stretch for any of these resistant groups to be fighting along side Western intelligence against Iran.
Either way, the actual success of the operation shows Iran's intelligence services are lagging behind, not only because the Mossad has penetrated high enough up to be able to successfully carry out this operation, but because it has more than likely coopted locals to help it out.
Iran claims it will retaliate for the assassination of its top scientist, but it may not have much of a choice but to grit its teeth and focus on internal opposition instead.